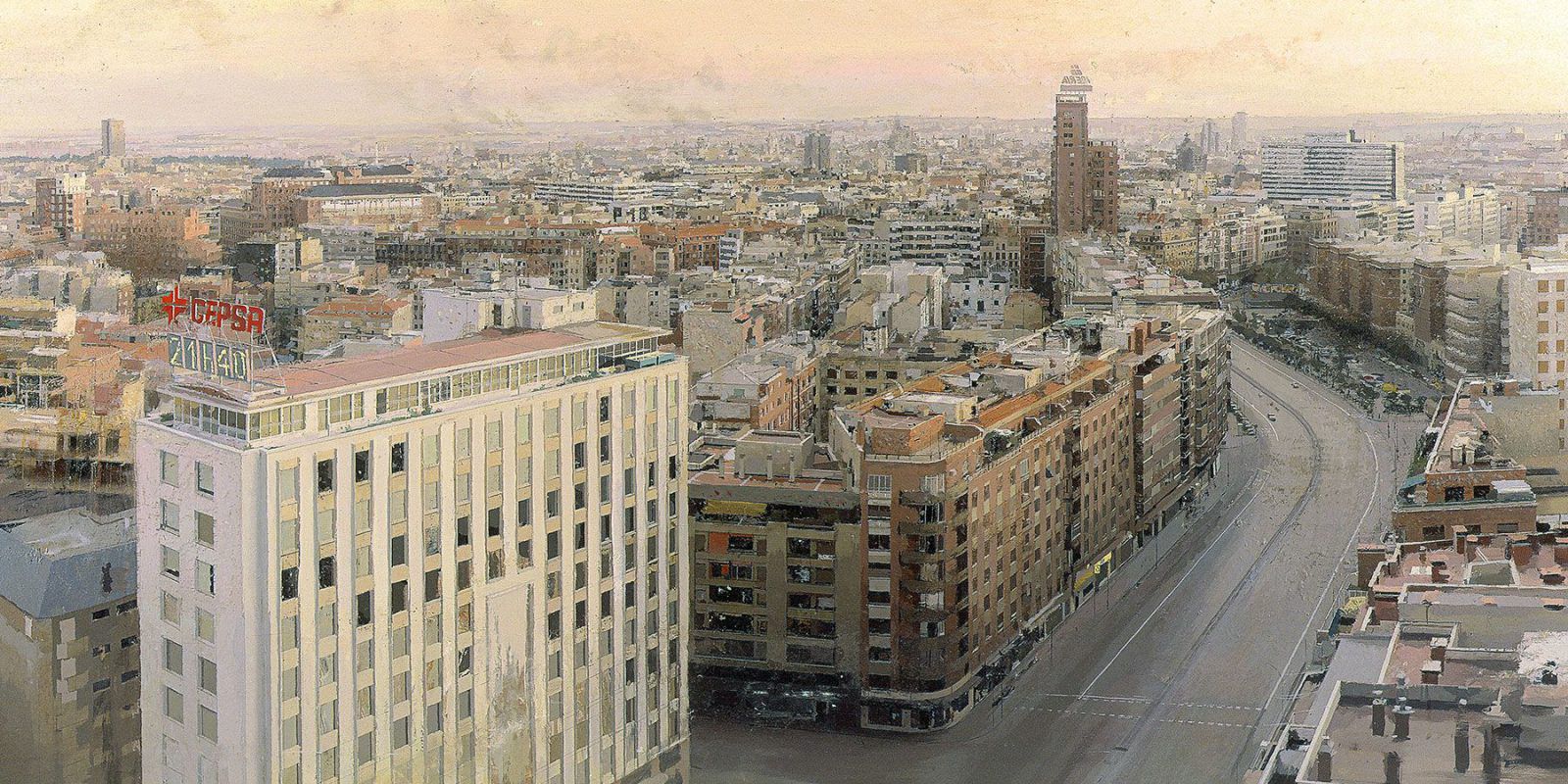 Finished
2011-10-10 • 2012-01-29
Antonio López
BBK Room
"I think the motifs that have moved me, as a starting point, have been pretty much the same right from the beginning: human figures alone or in pairs, dressed or nude, in their spaces, which are mine; rooms; landscapes, almost always cityscapes; trees; flowers; food […] It'll be interesting to see the fifty-eight years the exhibition covers all together. Particularly for me."
Antonio López, May 2011
Antonio López
Since the 1950s, Antonio López has worked on objective figuration, on a reality that, more or less intentionally, he transforms in his drawings, paintings and sculptures. Throughout his long career he has created a timeless oeuvre of great technical virtuosity, centred on the realist representation of people and objects. His iconographic repertoire is based on the reality of the visual, and oscillates between intimacy, so often interrupted by the surreal and the affective world, and landscapes, from his hometown Tomelloso to his immense cityscapes. It all condenses his apparently endless ability to reproduce reality while transcending the immediacy of tangible matter.
In 1992 film director Víctor Erice shot The Quince Tree Sun, which narrates Antonio López's peculiar creative process. A man absolutely devoted to his art, he looks at the reality that surrounds him for the quotidian features that so often grab his attention. After looking intensely, he executes the work, usually without preliminary sketches, in a slow, tremendously thoughtful process that may last years, and which often forces him to successively increase the size of the canvas. Changes and additions are made to works that López almost never considers done with and finished. He returns regularly to them in his ongoing bid to capture the vital density of a sitter or of the objects and landscapes he portrays.
The intense eye, the concentrated gaze of the artist imbues his works with a sense of time that moves the withdrawn, meditative spectator to look, and look hard. Something that contributes enormously to this air of metaphysical insight, of suggestions of the invisible through what is visible, is his use of light and the accidents and textures scattered over the canvas; both elements distance the work of Antonio López from what is known as hyperrealism or photographic realism. He also adds a number of resources from Surrealism and art informel; things like stains, scratching and even the additions of different materials. This way of working has enabled Antonio López to produce a highly personal oeuvre independent of more recent realist tendencies in Europe and American hyperrealism.
A brief life
Antonio López García was born in Tomelloso in La Mancha in 1936. He soon began to display an amazing gift for drawing and his uncle, the artist Antonio López Torres initiated him in the art. At thirteen, he went to Madrid to prepare for the San Fernando Higher School of Fine Arts, spending much of his time in the Museum of Artistic Reproductions and the School of Arts & Crafts. Between 1950 and 1955 he studied painting at the San Fernando academy. His years there gave him a solid academic, technical and theoretical grounding that has served him extraordinarily well throughout his long career.
With his studies recently concluded, he went to Italy on a grant, where he was enormously impressed by the painters of the Trecento and the Quattrocento and, above all, by the work of Piero della Francesca. Besides early Renaissance primitivism, Italian metaphysical painting was also a major influence, and, with Surrealist poetics, both would make their presence felt in López's paintings, particularly throughout the 1950s. In 1958 he went to Greece. His studies of Egyptian, Roman and Greek sculpture also left a deep mark on his work.
From 1960, influenced by European realism and the New Objectivity, he began to paint his views of Madrid. During the decade, his painting became increasingly realist. In 1961 he married the painter María Moreno. Between 1964 and 1969 he taught as Professor of Colour Preparation at the San Fernando School of Fine Arts. The nineteen seventies and eighties were years of intense activity, marked by frequent exhibitions and critical acclaim. In 1985 he was awarded Spain's Prince of Asturias Prize for the Arts.
In 1992 director Víctor Erice shot his film on Antonio López's creative process, The Quince Tree Sun, which won the International Critics Award at the Cannes Festival in the same year. In January 1993 he was appointed a member of the San Fernando Royal Academy of Fine Arts and in 2006 he received the Velázquez Award for Plastic Arts. In 2008 the Museum of Fine Arts, Boston staged his first American retrospective.
Antonio López lives and works in Madrid.
In the image:
Antonio López, (Tomelloso, Ciudad Real, 1936)
Madrid desde Torres Blancas, 1974
Oil on panel, 165,8 x 244,9 cm
Marlborough International Fine Art
Content of exhibition: Antonio López